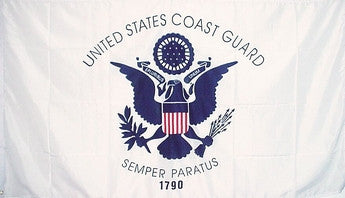 Coast Guard Flag 3x5
3X5 US COAST GUARD FLAG - SKU 422
PRICE:  $14.95. Fly it on our 16' or 22' telescoping fiberglass flagpoles. Our 3x5 flags has header tape and 2 metal grommets , printed on one side all the way through the fabric for bold colors. Double stitched around all the edges with 4 rows of stitching on the fly edge.
           ***********GO US COAST GUARD*******************
                        Thank you for your service
---
We Also Recommend